Michael Gilbert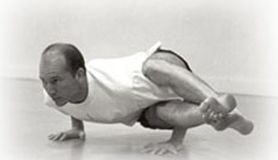 Michael Gilbert has been involved with Structural Integration (rolfing) and Iyengar Yoga for over 20 years.
Trained in Iyengar Yoga in India and San Francisco, his mentors include Manuso Manos, Mary Dunn, Patricia Walden and B.K.S. Iyengar.
With an educational background and practical experience in pre-med anatomy, Michael also teaches anatomy and physiology, with a private practice in Structural Integration, specializing in medical conditions.