Joseph Glaser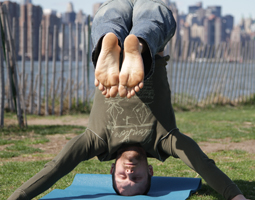 Joseph, a native of San Diego, California, has always been drawn to the enrichment of life that Yoga brings.
Joseph is a Hathvidya instructor who studies with Will and Susan Duprey. Through studying with his teachers in small groups and a traditional one on one setting, he has come to know and love a classical Hatha Yoga lineage. Joseph is currently serving his teachers through teaching classes, leading Hathavidya workshops and being on the faculty of the Hathavidya 200 hour teacher training programs.
In addition to his studio offerings Joseph is a Yoga therapist at Memorial Sloan Kettering Cancer Center in NYC. With MSKCC he contributes to research that is finding new ways to use Yoga as an integrative therapy in cancer treatment. In addition to working with cancer patients Joseph has also explored the application of Yoga with those living truncal distonia, diverticulitis, arachnoiditis, and other dis-ease.
Joseph's class melds a unique blend of light heartedness and a disciplined focus to gain awareness of the Self and to harmonize the body and mind. He looks to build independent students with clear communication of alignment and emphasizing taking the practice at your individual pace. He presents the teachings of Hatha Yoga in a practical way and encourages their use in everyday life.