Frank Mauro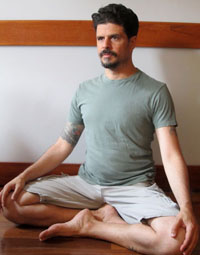 As a very young boy growing up in NYC, his father introduced Frank Mauro to some of the basic principles of Hatha Yoga. In 1990, Frank began a more in depth exploration of Yoga postures as well as the philosophical underpinnings that support them. Taking yoga classes at the few studios through out Manhattan from 1990 to 1998, his dedication to asana practice blossomed into a stable element in his life.
In 1998, he took his first teacher training in Canada at the Sivananda Yoga Center. With the thought of teaching others becoming more of a reality, Frank began attending additional workshops and retreats under the guidance of Richard Freeman, Rodney Yee, Judith Lasater and several other world-renowned Teachers. After reading "The Practice of Moving Into Stillness" in 2000, Frank was inspired to attend a second teacher training with Erich Schiffmann.
Through out this period of intense and involved study, Frank began a steady practice at the newly opened Om Yoga Center. After studying for two years with Cyndi Lee and her staff of teachers, Frank decided to take the Om Yoga teacher training in 2001. As a teacher at Om for 11 years and member of the teacher training staff for 8 years, Frank has learned from Cyndi Lee and the rest of the Om community the importance of finding the relevance of practice in everyday life.
Frank has taught teacher trainings and workshops throughout the world. He taught at New York Yoga from its opening in 2000 through 2002. He is excited about returning to the New York Yoga teaching staff as well as joining their esteemed teacher training faculty.