Stormy Barbara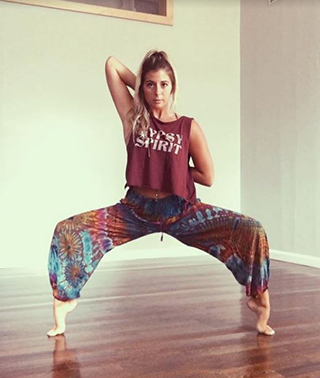 Stormy is a 23 year New Yorker with an undeniable lust for travel and all things creative. With an energy that is both unique and contagious, Stormy leads her classes with passion and fire. Her lifestyle is created and inspired by her Buddhist studies and spirituality. The desire to have others join in her journey of self discovery coupled with her 10 year background as a competitive dancer led her to the mat. Stormy's passion for the practice grew quickly as she received her 200 hour certification with Awakened Life School of Yoga in November of 2014 in Bali, Indonesia. Stormy's appetite for knowledge never ceases to end. She continued her studies at Yoga Vida where she participated in their mentorship program, received her Prenatal Yoga Certification from the Prenatal Yoga Center in NYC as well as taking her skills to the water by becoming Stand Up Paddle Board Yoga Certified.
Stormy is presently teaching in New York and studying with The Institute of Integrative Nutrition to become a Certified Health Coach. Food is not only medicine but power; it fuels the body which is a vehicle for health and happiness. Stormy is also completing the 500 hour training with Yoga Vida this fall where she will further her understanding of embodied anatomy, advanced sequencing & assists, dive deeper into the Bhagavad Gita and become immersed in the practice of Ayurveda.
Catch her in class and see where all the magic happens!