Randi Cerini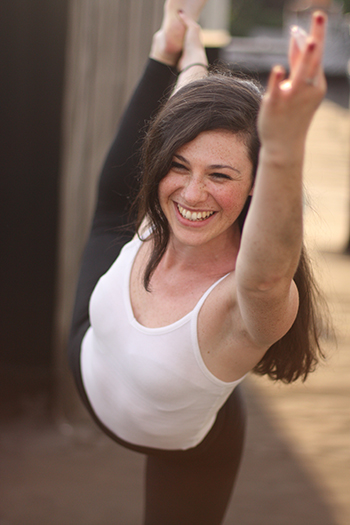 Movement and dance have always been part of Randi's life. She began dancing as a toddler and continued to dance, perform, and choreograph through college and after. She moved to New York City to continue her focus on dance and movement and found that yoga was not only something she loved to practice, but it also helped reduce foot pain she had developed from years of dancing. This "aha" moment inspired her to become a yoga teacher so she could help others cope with physical injuries, mental and emotional struggles, or just find clarity and groundedness after a hectic New York day.
Randi teaches various styles of yoga including vinyasa, hatha, Katonah, restorative, and prenatal. She regularly teaches public classes, private clients, workshops and on international yoga retreats through her company, Om Tribe Yoga Retreats. She completed her 200-hour yoga teacher training and mentorship program in 2014 at Yoga Vida in Manhattan, and has continued her training with Abbie Galvin and Alex Sharry at Katonah Yoga in Manhattan.
andi's teaching style largely focuses on helping students find proper alignment before moving deeper into a posture or state of meditation. Her sequences are challenging for students of all levels yet attainable for new students, as she provides variations for many postures. Randi is constantly inspired by the teachers and students she encounters in the Greater New York and world wide yoga community. Stay up to date with Randi's offerings by visiting her websites randiceriniyoga.com and omtribeyogaretreats.com or following her on Instagram @randiceriniyoga.