Rachel Page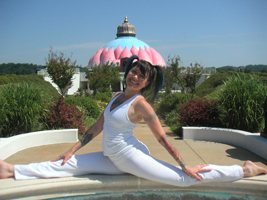 Rachel, a graduate of the University of Central Florida, began studying yoga in 2001 after working for the Peace Corps in Africa.  She began taking classes at the local YMCA and was immediately hooked.  Soon after, she quit her "9 to 5" allowing her to completely dedicate herself to the study and practice of yoga.

Rachel feels blessed to have studied with Sharon Gannon and David Life, Dharma Mittra, Manju Jois, Doug Swenson, Desiree Rumbaugh and Swami Asokananda; she continues to study with these and other great teachers. She is Yoga Alliance Certified at the 200-hour level in Hatha and Integral Yoga and is also a member of the Integral Yoga Teachers Association.  She will soon be certified at the 500-hour level.

In 2006, Rachel studied Nuad Bo-Rarn (traditional northern Thai massage) in Thailand under Chongkol Setthakorn.  She earned advanced certification from the ITM Massage School which is accredited by the Thai Ministry of Education - Chiang Mai District. She also earned certification in traditional Thai foot reflexology.

Rachel firmly believes in the purity of the original yogic philosophy and tries to stay true to that in both her classes and her everyday life. Her classes reflect her diverse background and always include chanting, pranayama (breath control) and dhyana (meditation) in addition to the asana practice. As a bhakti yogini, Rachel's love of practicing and sharing yoga shines through in her creative and inspirational classes.