Lynda Lee O'Laughlin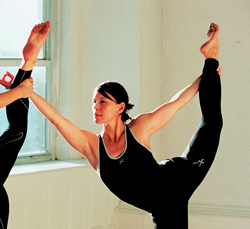 A former dancer, Lynda has been exploring movement and anatomy her entire life and has studied Yoga for over a decade. Presently, Lynda finds great inspiration through extensive studies with her primary teacher, Rodney Yee. She also continues to study whenever possible with Richard Freeman, Sharon Gannon and David Life, creators of Jivamukti Yoga, the brilliant and humble Lady Ruth Lauer Manenti, Robert Thurman.
Lynda brings years of exploration and dedication to her teachings. By weaving fluid asana sequences together with a passion for philosophy, she hopes to create a space for each student to expand, increase awareness and cultivate a passion for the practice ultimately allowing for greater compassion carried out into their daily life.
Lynda Lee is a New York City based teacher who teaches open classes, privately and at the renowned Yoga Shanti studio in Sag Harbor of the Hamptons.