Kate Griffler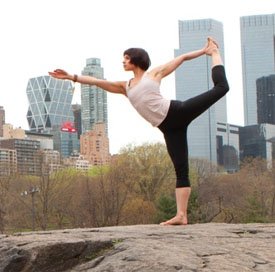 Kate has been teaching Vinyasa yoga in New York City for nine years and absolutely loves it! In 2010, she received her Vinyasa training from Jhon Tamayo at the Atmananda Yoga Center in New York. At the young age of 3, she received her first mantra and has had a strong meditation practice ever since which she frequently incorporates into her classes. She believes that the combination of yoga and meditation- strong body, strong mind is the way towards a healthy soul!
Kate has had the privilege to participate in light healing and meditation workshops lead by Guru Sai Ma and has had the incredible opportunity to travel to Japan with His Holiness Gayuna Cealo. She is also very fortunate to have spent time with Master Guru Satya Sai Baba of Puttaparthi, India.The spiritual teachers in Kate's life have given her a strong foundation for living passionately and always with an open heart.
Kate is also a professional dancer and choreographer and is the Artistic Director of the non-profit company REVERBdance which presents international dance festivals in New York and nationwide.