Julie Wilcox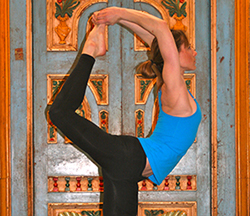 As a devoted student and passionate teacher, Julie has been immersed in the practice and teachings of yoga for eighteen years. Having studied extensively under renowned yoga masters, a former gymnast and dancer, Julie teaches vinyasa flow classes with an emphasis on strength-building, flexibility enhancement, alignment, breath, meditation, Ayurvedic principles, and the philosophy of yoga. Whether you have never done yoga before or are an advanced practitioner, a mother or a corporate executive, an athlete or are struggling with illness or injury, Julie caters her teachings to nurture each individual's needs.
Through teaching group class, private sessions, teacher trainings, videos, her digital platform, The Julie Wilcox Method: Fitness, Yoga, Food, her features for Forbes Lifestyle and MindBodygreen, Julie reaches thousands of people, spreading what she believes are the key components of successful well-being; knowledge, passion, perseverance, practice, and patience.
Julie discovered yoga at Jivamukti and completed her professional yoga teaching certification at Yoga Works in 2006. She Co-Founded ISHTA Yoga in 2008, was President of the company, and taught at her studios through 2011. She has had the honor of teaching at Kripalu (2010), The Yoga Journal Conference (2011), and The Omega Institute (2012).
Julie graduated from Harvard College in 1997 with a B.A. in English and American Literature. She completed her MFA at The American Film Institute in 2002.