Juliana Mitchell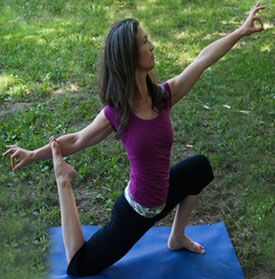 Juliana Mitchell was introduced to Yoga as a young girl by her mom, who practiced then in the Kripalu tradition. In 1998 Juliana committed to a practice of her own – exploring many Yoga lineages before falling in love with the dynamic grace of Vinyasa Yoga & the healing-oasis that is Restorative Yoga. And one day, mid Sun Salutation, it became clear that this was what she wanted to do with her life.

She went on to become certified in Vinyasa Yoga at the 200 hour level through Om Yoga, has completed basic and advanced certifications in Restorative Yoga with Judith Hanson-Lasater (with whom she continues to study), and is certified to teach Prenatal Yoga by Janice Clarfield. To enrich her Prenatal teachings, Juliana has also trained and acted as a doula (birth coach). Most recently, she traveled to India where she studied with a Yoga Master named Yogacharya Venkatesh in his strict and exacting system called 'Atma Vikasa Yoga ' or 'The Yoga of Self Evolution'. While in India, she also spent some time in an ashram practicing in the gentle Himalayan Yoga/Swami Rama tradition.

Cherishing that the many lineages of Yoga are all a part of one amazing Yoga family, Juliana's classes and practice are influenced from a number of avenues. She is interested in the technical and practical aspects of anatomy, alignment and movement. At the same time, her classes have a deeply tantric thread to them – which is to say she believes our practice must feel joyous and sweet and must be guided by our heart's abiding wisdom. She teaches that Yoga returns us to the wellness, joy and ease that is our birthright. Her classrooms are a non-judgmental, non-competitive space. Come as you are and we will celebrate. .

She is thankful to her many teachers for setting her on this path. And is very happy to have become a part of the New York Yoga Family.