Jessica Chazen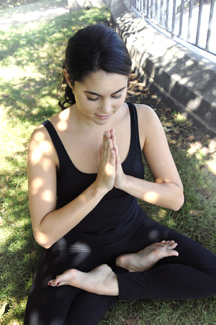 Jessica has been teaching Vinyasa and Therapeutic Yoga privately and in groups for five years and has earned additional certifications in Restorative and Prenatal Yoga. She feels blessed to do what she loves every day. Five years ago, she listened to her heart and enrolled in the 200 HR Teacher Training at New York Yoga, and she's so glad she did. Today Jessica assists these very trainings, and it feels surreal. Jessica is grateful for the opportunity to be creative in her work, share her discoveries (both on and off the mat), and help people feel good! She love traveling, making dinner for her husband, swimming in the ocean, and standing on her forearms. It is her intention to help her students feel positive, relaxed, motivated, and awake.
He asked, "Are you a god?"
"No, Brahman, I'm not a god."
"Are you an angel?"
"No", replied the Buddha.
"You must be a spirit then?"
"No, I'm not a spirit," said the Buddha.
"Then what are you?"
"I'm awake."

Visit her blog! onehungryyogi.com