Jackie Foley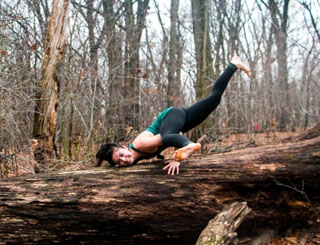 Jackie first discovered yoga over 10 years ago while standing on the precipice of a deep journey of healing and becoming. Yoga served as a dear companion and teacher during this time and quickly began to unfold beyond just a practice, but rather a way of living. She holds yoga as saying yes to the dance of the wholeness of life. A beautiful opportunity to be in conversation with each step, each breath of the journey – the joy, the heartbreak, the confusion, the clarity, the simple, the complex, the awkward and messiness, the gracefulness and peaceful ease. To maneuver riding the edge between what is no longer and what has yet to come.
Jackie is a 200 Hour registered yoga teacher and currently completing her 500 Hour certification. She is also Reiki attuned at the first level.
Jackie teaches from a profound connection with playfulness, surrender, unfolding, strength in vulnerability, and the sweetness of moving authentically. She believes one of the most beautiful things about being human is our ability to be found by the world and her intention is that her classes provide the space and container for students to grow and become more of who they already are. Her heart sings living a life that serves others in their journey, all the while inspiring the art of being fully alive.