Hillary Helmling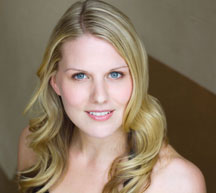 Originally from Vincennes, Indiana, Hillary moved to New York City with a BFA in Music Theatre in hand ready to take on the Big Apple. While pursuing a career performing, she needed an outlet from long days of pounding the pavement, and stumbled into a yoga studio in Union Square. She was hooked!
She received her certification from Sonic Yoga - Center for Yoga Studies under the guidance of Lauren Hanna and Jonathan Fields, and is a Yoga Alliance registered teacher. She is also grateful to all the teachers that she has had the privilege to study with who have helped to shape her own yoga practice and teaching style
Hillary loves the creativity, flow, and ease of Vinyasa Yoga. She is very passionate that yoga is a daily practice that can help gain perspective, balance, and mindfulness in all aspects of your life. She incorporates many forms of yoga into her classes with a strong emphasis on pranayama, alignment, strength, and finding your flow. Hillary is grateful to have found yoga and hopes to help you find your own journey as well.