Dayle Pivetta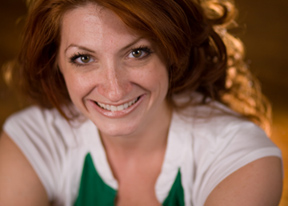 Originally from Livonia, Michigan, Dayle moved to New York City in 2003 with a degree in musical theater and a suitcase. Her personal soul searching quest brought her to the world of yoga, and the mental and physical benefits have changed her life. She's not the type to be quiet about something she loves, and thus a career in teaching/sharing yoga began!
Dayle encourages her students to become their own guru, to follow their hearts and breath and to explore their edges mindfully. Her classes combine strength, breath and grace with creativity, spirituality and laughter. She is continually inspired and evolving thanks to her wonderful teachers, who are quite often her students!
Dayle received her 200 hour certification at Sonic Yoga, Center for Yoga Studies in NYC, has completed the 100 hour Bhakti/FLY Love School immersion at Laughing Lotus NYC and Ring One Circus Yoga. She is passionate about making yoga accessible to all ages and abilities and is certified to "play" yoga with kids, teens and families thanks to Rainbow Kids Yoga, Karma Kids Yoga and Jyothi Larsen's Yoga Mom Buddha Baby program. Dayle is also a certified practitioner of Thai Yoga Therapy/Massage under the tutelage of Rhiannon Fink, Laughing Lotus NYC.