Dana Tarasavage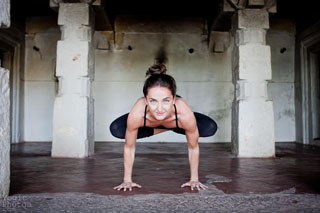 Dana Tarasavage is an Authorized Level II Ashtanga Yoga Instructor and studies yearly with Sharath Jois at the KPJAYI in Mysore, India. She is continuously fascinated with challenges and rewards the practice and study of yoga yields and was initially drawn to Hatha yoga in 2004 while living at home in Florida. Eventually life called her to New York City where she attended NYU and FIT.
In 2009, while on a break from pursuing a bachelor's degree in Communications, she completed a 200-Hour RYT Training at Urban Ashtanga Yoga Shala in Orlando, Florida. Beginning in 2011, she has made annual month-long trips to Mysore, India, to study Ashtanga Yoga at the KPJAYI and to further her connection to the roots of this practice. She is also a student of Yogic Philosophy, Sanskrit and chanting, a Pilates instructor, and a published poet featured in The Poetry of Yoga.
She teaches both Vinyasa and traditional Ashtanga classes with an emphasis on the breath and awareness of bandhas, dristi and alignment in each asana.