Chelsea Crabtree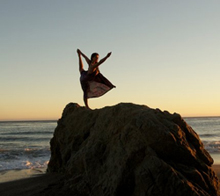 Growing up as a dancer and singer in the Shenandoah Valley of Virginia, Chelsea was always very in tune with her physical body. After having moved to New York City to attend Hunter College, injuries and and a tight schedule kept her from dancing for a time, during which she began to realize how becoming out of touch with the physical body can have drastic effects on the state of the mind. However, when a friend introduced her to a vinyasa yoga practice, Chelsea was immediately enamored by the physical parallels between dance and a vinyasa flow, as well as the benefits of connecting the breath to movement, (which also had an amazingly positive effect on her singing), and bringing more of an awareness to her physical body and emotional self.
Having completed her 200-hr certification with New York Yoga in 2010, Chelsea is ecstatic to share the benefits of yoga with students of all levels.
She teaches a Vinyasa class that focuses on connecting the breath to each movement, opening up the body through the physical asana (poses) and using the breath throughout the flow to unify the the efforts of the yogi. Chelsea cheerily instructs her students through an encouraging class, focusing on correct alignment to develop strength, endurance and flexibility, while using the breath to create tapas and purify the body, finishing with a juicy, restoring savasana.
She is eternally grateful to the friend who brought her to the practice of yoga, and to the teachers that inspired her and helped her to gain so much knowledge. She is always interested to learn more and continue to her quest to gain knowledge through experience in the practice and study of yoga in her life.