Cara Anselmo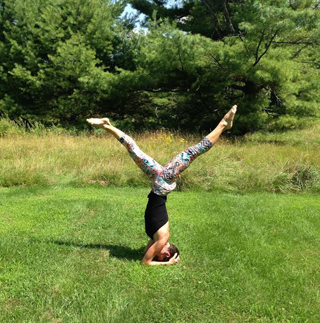 Cara Anselmo is a certified yoga instructor based in New York, New York. She is also a Registered Dietitian (RD) and NYS-certified
nutritionist, with a Masters degree in Clinical Nutrition.
Cara completed her 200-hour teacher training at New York Yoga. She also has training in yoga therapeutics and experience teaching "hot" yoga. An avid runner who has completed 3 marathons, Cara has led successful Yoga for Runners workshops.
Cara leads a thoughtful and challenging vinyasa class that encourages students to find honesty, openness, and attention to what best serves
their own bodies and minds.
Her teaching infuses her interest in so many aspects and traditions of yoga -- from Iyengar-based alignment principles to exploring a Tibetan Buddhist worldview. Cara believes a yoga practice can be beneficial for anyone, regardless of gender, age, religion, health status, or "flexibility."
Yoga has been a centering force in Cara's own life, and for this she is grateful each day. Yoga is not only her asana practice, but the way she lives her life. As a teacher, she is constantly reminded of all that she still hopes to learn.
From the bottom of her heart, Cara thanks all of her teachers, past, present, and future (not least, her cat Margaret, whose mastery of pratyahara is a source of inspiration). Indeed, she believes all living beings are our teachers.