Aubrey Lampkin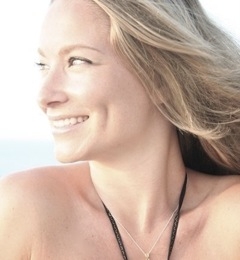 Aubrey practices and teaches a hands-on, heat-building, flowing Vinyasa Yoga combined with healthy alignment and therapeutic instruction, yoga philosophy and humor.
Aubrey was born in Connecticut to British parents and has lived and worked all over the world, most recently teaching yoga retreats in Malta, the Swiss Alps and Thailand. After graduating from Boston University's College of Communications, she worked as a marketing executive in New York City before leaving to pursue her true passions: travel, fitness and yoga.
She studies with internationally renowned yoga instructor, Mitchel Bleier and his partner, Tracy Bleier of Saraswati's Yoga Joint in Norwalk, Connecticut where she completed both her Level 1 and Advanced Teacher Training courses (through Yoga Alliance). Aubrey appears in Mitchel Bleier's 'Yo-Fi' yoga DVD-series, is a scuba dive master and publishes travel articles on the side. She is also a new ambassador for Lululemon Athletica. Aubrey currently teaches yoga in New York City and The Hamptons at the most cutting-edge fitness/wellness facilities (Equinox, Exhale, David Barton Gym, New York Yoga and Erika Bloom Pilates), corporations and households.