Andrew Chung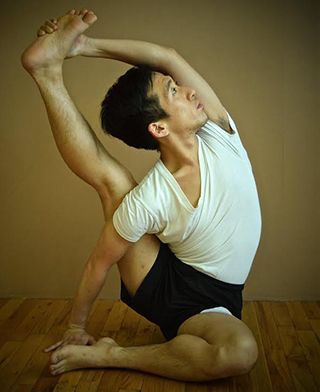 Andrew Chung is a yoga teacher and performance-based artist currently living in New York City. Andrew is a native from Southern California and has been practicing yoga for over a decade. Andrew completed his 500 Hour RYT Certification through YogaWorks in New York City. He currently teaches in Manhattan and Brooklyn. He teaches an alignment and breath focused vinyasa flow class.
Andrew moved from California to New York in 2011 to study Drama at New York University. He started getting serious about his yoga practice and considering certification in his last year at NYU, during a study abroad program in Amsterdam where he met and practiced with Nora Heilmann. Andrew believes in the healing and calming effects of yoga and encourages his students to get invested in themselves, while also letting go of what doesn't serve them.
Andrew is interested in how movement and breath affect the mind. Studying Drama at NYU introduced Andrew to a multitude of different movement techniques and acting methods. These tools, combined with the knowledge he has gained from yoga, enable Andrew to investigate and explore how breath and movement can bring about real change in someone's life. Andrew continues to perform and collaborate with friends from school. He feels incredibly lucky to share yoga with other people who are receptive and open.